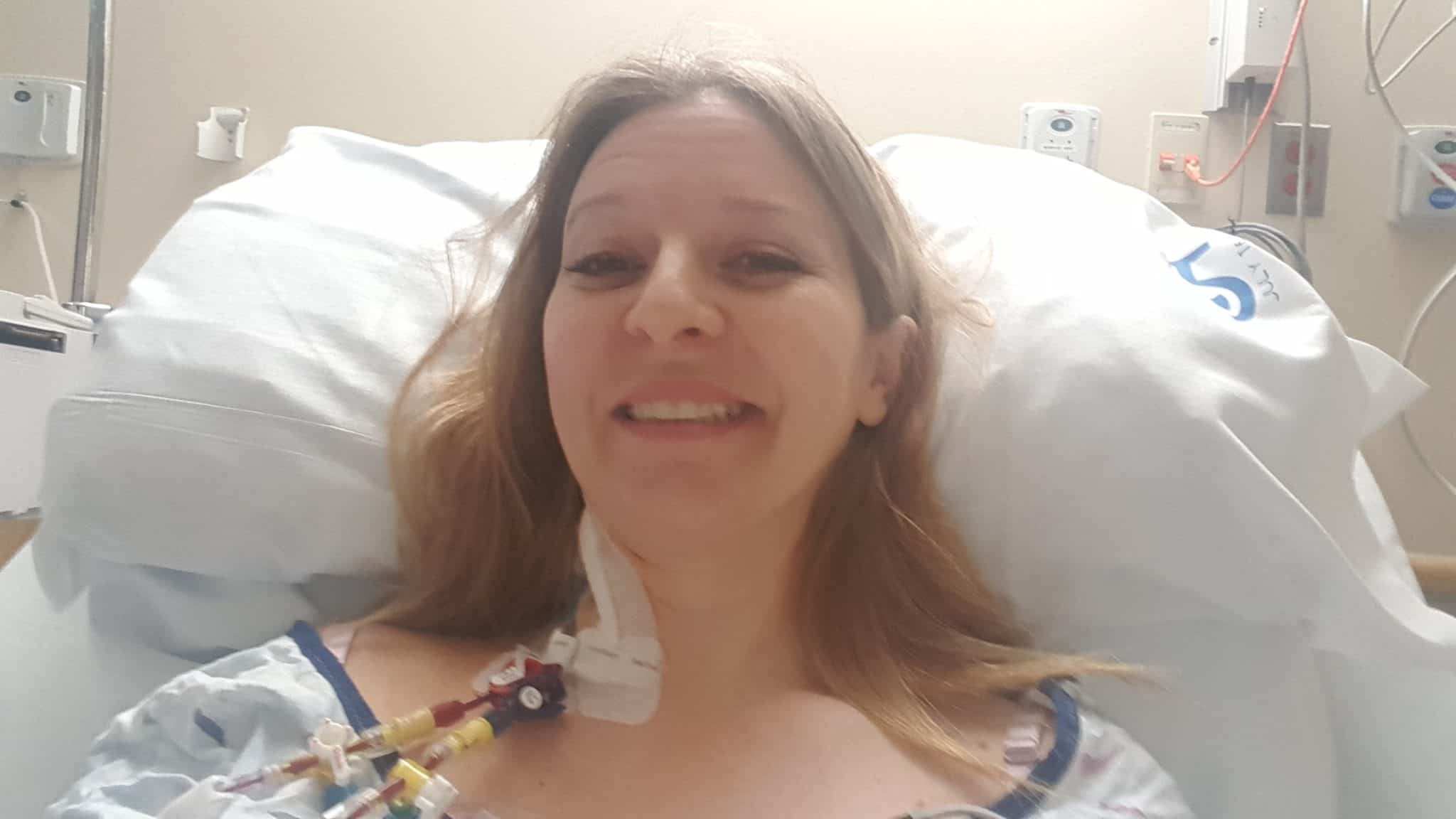 Stephanie went back to CHOP around 2:00 pm today (Wednesday) and started with getting everything ready for the procedure. They started by removing the central line (crazy picture of that below… "graphic content" disclaimer implied for those that have trouble looking in a hospital room), and then brought out more consent to treat forms. I am not sure if every patient at CHOP gets the same engagement with their doctors that we have had, though I assume they do, but these guys are amazing. They are very clear in explaining what they are planning on doing, the risks associated with it, the potential benefits, and the various backup plans in case something were to go wrong. When we were originally meeting with them, I found it odd/interesting that multiple people would recap the same procedures throughout the various meetings, just to make sure we understood everything. Needless to say, it gave me a chance to reflect on how I talk with patients, and how I explain things to them. It was a nice touch.
After the consent forms were signed, and a few more reminders of the experimental nature of the process, they were ready to get started. If for some reason you need to catch up on whats going on, you can read the other blog posts leading up to this one, by follow these links: Day 1, Day 2-3, Day 4, Day 5
To begin, I have had multiple phone calls, texts, Facebook messages, and patients in the office ask me about how Stephanie is holding up, and if she is feeling bad, etc. Throughout this whole process, she has done really well. For all intents and purposes, this has been a standard pregnancy for her. No major issues with nausea, morning sickness, pain, etc. She has been a little more tired than normal, taking more naps than she has in the past, but all in all things have gone well. The same could be said for our experience at CHOP. Every visit we have had so far has been pretty uneventful and through the outpatient process. Sure, some of the procedures sound scary, and they may not have all been done on someone with Hyper IgM Syndrome, but the doctors working with us have been great. Needless to say, Stephanie and the baby have been great the whole time, and have not displayed any outward issue.
As a reminder, Hyper IgM Syndrome affects the immune system, and prevents the individual from effectively "learning" from various illnesses. It makes it harder for the boy to create IgG, which is about 75% of the immune system, and responsible for killing off all of the microbes. For the first 4 to 6 months of life, babies have the circulating IgG from the mother's blood (immune system), which helps to protect them until their immune system is able to kick in and produce IgG on its own. Everything we have been doing over the past week is with the hopes that Stephanie's stem cells will be able to be introduced into the baby's circulatory system, and then latch on to the bone marrow, and override the genetically altered X chromosome. We knew going into this process that there was a chance that the stem cell transplant would not work, but we have felt that it is a tremendous blessing to be able to have the opportunity to try.
As the doctors were preparing everything, Dr. Flake, the head doctor on our team, and the one that has been researching this since the 80's, having successfully performed a similar transplant for a boy with X-Linked Severe combined immunodeficiency in 1996 was talking to Stephanie about the circumstance in which they were introduced to each other. More details came out that neither one of them realized. Back when Stephanie talked to Duke University and realized that they would not be able to help, she then started finding answers on their own. She found someone in San Francisco that sent an email out to the people that she knew. One of the emails went to a maternal fetal specialist in Houston. It was this doctor, whom we never met or saw, that called Dr. Flake personally and asked if he thought that he could help us. Dr. Flake was obviously excited to find out more details since Hyper IgM Syndrome is an X-Linked recessive issue, and so Dr. Flake contacted San Francisco after talking to the Houston doctor. San Francisco then gave Dr. Flake all of Stephanie's information, and we were able to get the ball rolling. The other crazy thing, is Dr. Flake used to work in the center in San Francisco that Stephanie contacted. Additionally, the Houston doctor will now probably be the guy that is going to monitor Stephanie and the baby via specialized ultrasounds until Stephanie is able to get back to Philadelphia. (If I have not mentioned it before, the current plan is for her to be back in Philly from 33-ish weeks until delivery.)
It has been truly amazing to see the little things that have led to this process being completed. (If you are Mormon, you would call these things "tender mercies of the Lord," but I don't want to use phrases that may sound confusing or cliche to other people.) Our family has been blessed from the many prays, warm wishes, fasting, and thoughts from our family and friends throughout this experience. We appreciate the love yall have shown us.
The actual stem cell transplant seemed to go pretty well, and once again, fairly uneventful. They started the procedure around 4:00 pm, and by 5:30 pm I received a text that said they were done, and going to dinner. Stephanie doesn't mess around when it comes to "medical procedures" and eating… When my daughter Kambria was born, we went to IHOP on the way home (this was pre-gluten free.. don't judge). When we walked in the waitress asked how old the baby was, and Stephanie said, "I don't know.. what time is it?" Kambria was 6 hours old. That's how we roll…
As of right now, everything seems to be going in the right direction with both the health of the baby and with Stephanie. We will not know if the transplant is successful or not until much later though. We will continue monitoring the baby with ultrasounds, making sure there are not any rejections, like graft vs. host disease in the mean time. Other than that, we will wait and see, and continue praying for the miracle that we hope to see. Modern medicine (when used correctly) is amazing, and we feel blessed to live in a time where something like this can even be considered, much less that we are apart of the early stages of it. Thank you all again for your love and support. As we find out more, I will be sure and share what I can. The doctors appear to be reserved but hopeful. We will see how it goes. Stephanie will be on bed rest tomorrow, and then have a follow up ultrasound on Friday. She will probably go sightseeing over the weekend with no restrictions, and then do another ultrasound early next week. Then back to life as normal, with the close to monthly monitoring via ultrasounds with Dr. Flake's colleague in Houston until we run back to Philly to have a baby. Once Stephanie is back in town, we will probably have to decide on a name. Our current kids are Khalil, Kambria, and Kyree… if you can think of an interesting "K" name for a boy, I am sure Stephanie would welcome the suggestion.
And now a crazy picture…