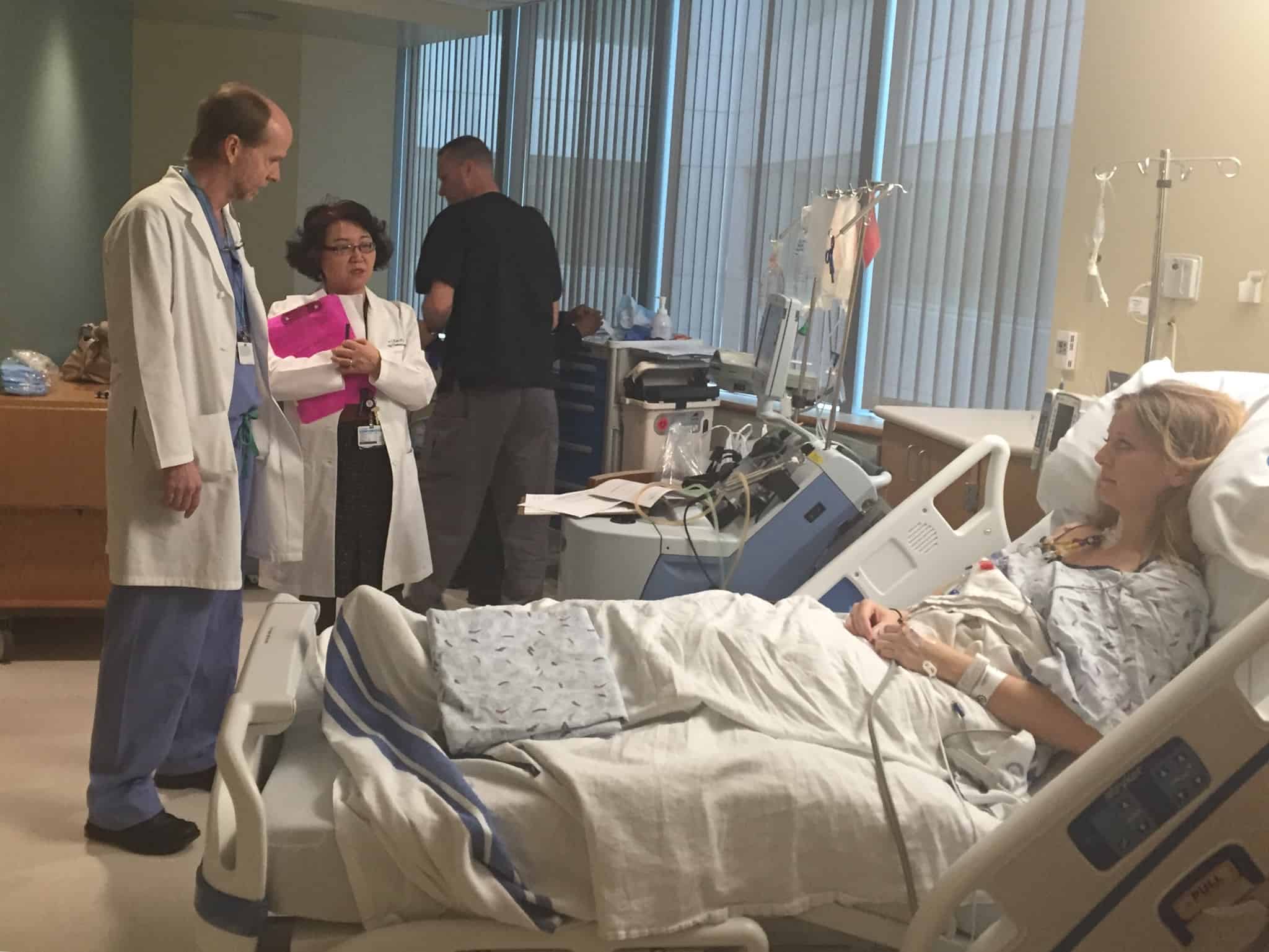 Today was the day that the stem cells were harvested. Over the last 4 days Stephanie has been taking her injections in order to stimulate stem cell development. and the preliminary blood tests indicated that things were going in the right direction. Since the concept of a "stem cell" may be foreign to some people reading this blog, I will attempt to explain what we are trying to do here.  The hematopoietic stem cell is made in the bone marrow, and will eventually become the various white blood cells and red blood cells and platelets that many people have heard of. White blood cells are identified as basophils, neutrophils, eosinophil, monocytes, and lymphocytes. These guys have various jobs in handling infections, inflammation, etc. The red blood cells are really called erythrocytes, while the platelets are called thrombocytes. (***Warning to people like my father who only have to think about the hospital in order to get grossed out… there will be pictures that may make some people squeamish.) 
To read the other blog posts leading up to this one, follow these links: Day 1, Day 2-3, Day 4
Essentially, the injections have been causing the stem cells to leave the bone marrow early, and has even started to create differentiation in Stephanie's blood stream as we see in her blood tests the increase in a lot of the previously mentioned white blood cells. Her WBC increased nearly 10 points in 4 days. Immature granulocytes, absolute neutrophils, eosinophils, basophils, monocytes, and lymphocytes all increased substantially. This is a good sign.
So now that Stephanie's blood was ready to be siphoned out of her, spun through a machine, and then reinserted into her heart via the jugular vein, the fun could start. First she needed the central line to be inserted. Stephanie has never been under anesthesia before, so this was a exciting experience for her. She was out really quickly, and doesn't even remember them asking her to count backwards. She would sporadically wake up long enough to remind the doctors how great of a nap she just had, only to fall right back to sleep. With three kids at home, and dealing with me all the time, it was probably good that she got to catch up on some sleep while she could. Once the central line was in, it was time to get hooked up to the apheresis machine.
In the picture above, Stephanie is hooked up to the apheresis machine, via the central line. You can see two tubes ("lumens" if you sign your name with post-nominals), that are used to capture and return the blood. I did not realize this going out to CHOP, but the "Who's Who" of medicine works there, and they are all participating in our case. We knew that Dr. Flake, the person that we were put in contact with via the doctor in San Francisco was a big deal, and we just figured that the rest of the doctors would just be "good" doctors. These people are amazing. Dr. Haewon Kim, the head of the apheresis department also just happens to be the doctor that helped "to develop the dedicated RBC depletion/exchange procedure concept." In other words, the company that made the machine that collects the stem cells was able to do it because of Dr. Kim, the Korean doctor in the picture below. Kinda crazy.
The apheresis part was originally planned to take about 2 to 2.5 hours, but at the beginning of the collection process, it was not catching Stephanie's stem cells properly. The technicians had to manually collect for a little while, and then the machine was able to fill properly, and collect on their own. Due to the risk of calcium imbalance, they started her on IV calcium (thankfully someone decided against the Tums…) and throughout the whole procedure Stephanie did not experience any issues from calcium issues. Since she is pregnant, they also monitored magnesium throughout the procedure. Her magnesium started at 2.0, and by the end it was down to 1.0 which is a potential problem. As soon as she finished the apheresis collection, they injected her with 2 grams of magnesium, which Stephanie described as the most painful part of the whole process. Luckily it was not as bad of an experience as this girl's recent trip to the doctor, so that was good. They are continuing to monitor her magnesium to make sure it returns to normal (UPDATE: she was released with normal levels at 10:45 pm est.)
Stephanie started the apheresis collection around 11:30 am, but did not end up finishing for about 8 hours. The original estimate of 2 blood volumes was also incorrect, and they ended up processing 4.5 blood volumes instead. Four and a half blood volumes for a 145 lbs pregnant woman is about the same as ten 2 liter bottles of soda. They let her eat while doing the apheresis collection. Apparently the machine is so good that it protects you from gluten…
They are leaving the central line in until tomorrow in case they need to do anymore collecting. So far they have collected about 11 oz. of stem cell, and white blood cell fluids. These will need to be processed through the FDA device that we had to get special permission to use. They estimate that the cells will be ready to be injected tomorrow around 3:00 or 4:00pm, so they will have Stephanie come back around 2:00 pm. She has the option to come in earlier to remove the central line if she wants to, but she does not have to come in early for that. She is planning to take some OTC pain relievers since she is not sure how she will be able to sleep from the soreness and central line still in. The doctors also gave her an Ambien if she can't get any sleep. Apparently it was pretty funny when they were discussing medications. Stephanie said she was in pain, and the doctors immediatly started discussing Codeine, and other potent pain relievers. Stephanie just asked if it would be ok to take an Advil since she never takes anything. They found it interesting that she doesn't take OTC pain relievers like Skittles. Apparently other people do that…
Tomorrow (Wednesday) is the big day. The baby will be introduced to his new immune system, and the plan is for that one to take over his current system, and no longer present with the Hyper IgM Syndrome genetic mutation. Thanks again for your thoughts and prayers. They are appreciated.