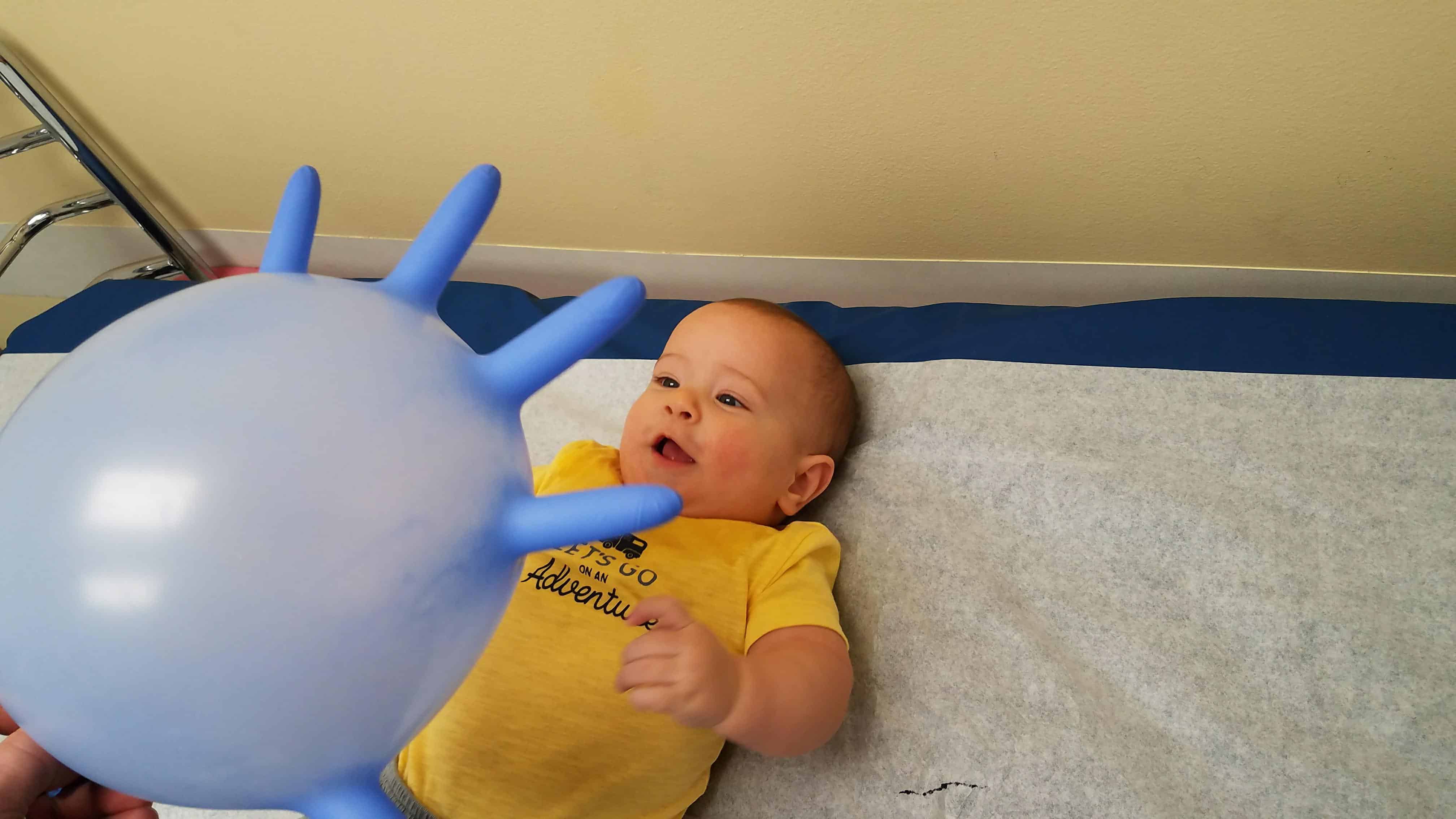 Tomorrow (January 26, 2018) will be exactly 6 months since Kolt was born. If you were wondering how he is doing, and what all has happened since our previous posts (which you can find here: Blog Post #1, Post 2, Post 3, Post 4, Post 5, Post 6, Post 7, Post 8, Post 9) this post is for you! If you were not wondering, but now you are interested in Hyper IgM, Dr. Chase Hayden's son, and the medical journey that we have been involved in over the last year, feel free to check out some of the links above to read the whole story. Obviously, these posts dip into the personal life of Dr. Hayden, and even though this is his business website, it seems to be a good place to put these updates for all of the friends, family, and patients that want to know what is going on. Thank you all for your continued support in Kolt's affairs and in our office endeavors.In order to summarize where we started and where we are (in case you skipped the previous 9 blog posts), Stephanie (Dr. Hayden's wife) is a carrier for an X-linked recessive immune disorder called Hyper IgM Syndrome. X-linked recessive means only males express the problem, while females can be carriers, but still have a functioning immune system. In order to try and overcome the immune condition, we attempted an in utero bone marrow transplant at 16 weeks gestation. So while Kolt was still inside the womb, we attempted to transplant donor stem cells (from Stephanie), but the transplant did not work.
Around 6 weeks after Kolt was born, we started on IV IgG, and then needed to wait until October for his 2 month check up, and engraftment determination. Since the initial tests did not appear to work, we were warned that the October tests would probably show much of the same, or that Kolt's immune system had started absorbing or rejecting the transplant from Stephanie. The October tests confirmed that the transplant did not work, but continued to show 2% donor cells, which appears to boggle the minds of the doctors. This is surprising because Stephanie's cells are there, but they are not growing, nor are they being rejected. Since this has never been done before, they do not know what it means. After the October follow up, the doctors at Children's Hospital of Philadelphia (CHOP) discussed the potential future outcomes which are similar to what we originally discussed which include continued IgG infusions, or a traditional bone marrow transplant.
Upon leaving CHOP, we transferred back to Texas Children's Hospital (TCH) in Houston, Texas. We have been meeting with Dr. Forbes, an immunologist at TCH, and she has been pretty great. We continue with IV IgG ever 3.5-4 weeks, and for the most part, things have been running smoothly since being back home.
Due to Kolt's immune system, and his genetic inability to learn and develop from different infections, and a lot of research and prayers, we have decided to pursue a bone marrow transplant rather than life long IV IgG infusions. With this in mind, in November 2017, we began the search looking for a bone marrow match. We started with our other three children, because in the bone marrow transplant world, having a sibling match (related donor) provides a much greater chance of a successful graft to take place. Since Kolt's immune system contains a portion of both mine (Dr. Hayden) and Stephanie's, the other kids were the starting point. In the case of not having a sibling match, the doctors then begin looking throughout the donor registry in order to find the closest match they can. After a dramatic blood draw, where the two oldest went into a conniption after witnessing their six year old little sister give blood like a champ, we had a few weeks of waiting to get the blood results back. The nurse literally said that if we could not calm our kid, she would be forced to get a restraining jacket to perform the test. Obviously, after the test was done, both of the kids reported that "it was not that big of a deal, and "it barely hurt."
It was an exciting phone call when they bone marrow transplant department at TCH called us in order to let us know that one of our girls was a match. There are a variety of different matches that can be used, some with more success than others. An allogenic match is the official word for a sibling match, and the initial report from the transplant team said their tests confirmed low resolution match, and that they wanted to retest her again for a high resolution confirmation. They pretty much guaranteed that if there was a low resolution match, that the high resolution match would also be confirmed since they are siblings, but hospitals have protocols that must be followed, so we retested again. (If you want to do a quick read on the other types of transplants, this is a good page to find out more information.)
One of the concerns that the transplant team had with one of our girls being a donor, is that we did not know if the girls were carriers of the blood disease or not. Since Hyper IgM Syndrome is X-linked recessive, and females have two X genes, there is still a 50% chance that any girls we have are carriers. Stephanie made a few phone calls to the research office (Seattle Children's) that is currently investigating rare blood diseases, so they sent an order to the hospital to have our girls get their blood drawn again in order to see if they are carriers or not. This was huge because not only were they willing to look into our girls and have them tested, but they were also willing to cover all of the costs through their research department. The good news, neither one of the girls are carriers of the blood disease! This is a huge relief, as it means that three of our four children will not have to worry about passing the weakened genetic code to their children. The doctor said that less than 25% of the bone marrow transfer patients have a sibling match, or relative donor.
After receiving all of the blood test results, and confirming a sibling match and non-carrier status, we were able to continue with the bone marrow transplant team. Today we met with Dr. Martinez at TCH. She was excellent, and walked us through the whole process of what we should expect. Originally we were thinking that we would be able to perform a hematopoietic stem cell transplant (very similar to how we did with with Stephanie as the donor), but instead they will be taking bone marrow from my daughter's hip bone. We do not have a date yet for when the transplant happens, but once they provide a date, there are specific procedures and schedules that will need to be followed in order to ensure the best possible outcome with the transplant. They transplant day is referenced as "Day 0" with pre-transplant days called "Day -#" and post-transplant days called "Day #." The proposed schedule looks like this:
Day -30: The sibling donor (Kambria) and Kolt go on "Super Vigilant" mode, and are not allowed to get sick. If anyone gets sick during this time, the transplant will need to be postponed to a later date.
Day -14: Kambria and Kolt are now on "Lock Down" mode, and not allowed to interact with anyone. Kambria will be checked out of school, masks will be worn, and no contamination can occur. When anyone enters the house, they will be required to remove shoes, and change clothes in our "decontamination room" before going into other parts of the house. Kambria and Kolt will basically be confined to the house, car, and hospital until Day 0.
Day -10 (or so): Somewhere around this time, the "Conditioning" program will start with Kolt, which is where he will be admitted into the hospital and stay until after the transplant. Kolt will be receiving a combination of three chemotherapy drugs that are used to neutralize his immune system. In the process, we expect to see traditional effects of the chemo drugs which include hair loss, blood changes, etc. As with all chemo applications, there is a chance of side effects which we obviously do not want to experience.
Day -2 or -1: Kambria will go to the hospital, and donate bone marrow while going under general anesthesia.
Day 0: By this time, the chemotherapy drugs have reduced the absolute neutrophils to zero, indicating that the it is time to implant the donor cells from Kambria. These will be implanted via a central line.
Day 1: Kambria and Kolt will be able to be in the same recovery room together, so Stephanie will be able to be with both of them.
Day 14-21: Around this time Kolt's immune system should start showing recovery, and he will be monitored via daily labs. During this time he may need additional transplants of platelets, or whole blood (since the same bone marrow makes both red and white blood cells, they will be checking all of them for possible issues).
Day 30-45: Kolt should be strong enough with his immune system to be released from the hospital, and be able to return home.
Following the release from the hospital, for the next three months or so there is an extensive monitoring process with Kolt, where he begins with multiple visits (3x/week) to the transplant department, progressively reducing the frequency of visits to once per week. During this time, he will continue to have the central line implanted, and will use a few medications to prevent graft vs. host disease. They are estimating that between six to nine months after the transplant, his immune system would be back to functioning like a newborn, and at that time he would no longer need medications. At that time, he would start learning and developing as if he no longer had Hyper IgM Syndrome. Once all is said and done with the transplant, Kolt would continue to have yearly checkups with the bone marrow team in order to ensure that nothing wonky starts happening with the various organs.
The exact date of the transplant has not been decided yet, but we are estimating sometime in middle to end of March. After talking to Dr. Martinez we are optimistic about the transplant, and the approach that we are going to be taking with Kolt. The goal is to be able to do the transplant once, and make it successful the first time. Statistics show that with a bone marrow transplant, there is a high (greater than 90% chance of survival after the first transplant), but when a patient has to go into the second transplant, the rate of survival drops to closer to 60%.  For this reason, even though it sounds crazy that we are doing a three cocktail dose of chemotherapy drugs, it increases the chance of getting everything taking care of the first time. Additionally, the earlier the transplant the better, as it helps us to avoid exposing him to something that would make him sick, and currently he has not been exposed to anything that would injure or damage his liver and kidneys. We have been encouraged to continue breast feeding, and are able to continue breastfeeding up to, and after the transplant, which is also pretty exciting. This was one of our biggest concerns, and we have been going nuts lately looking through baby formulas, and trying to find something that did not use GMOs, or other common inflammatory foods.
Once the dates become finalized, and the transplant process is under way, we will be sure to continue to update everyone. Until then, we are grateful for everyone's thoughts and prayers.