I wasn't so sure how this was going to turn out but everyone loved these as did I.
Pre heat oven to 390
Ingredients:
Cheese cloth or clean old thin t-shirt
4 eggs
1 head of cauliflower
Put the cauliflower in a blender and blend until all the chunks are crumbly.  Place the cauliflower in the cloth and squeeze out all the liquid.  The cauliflower will take on a rice consistency.  Mix with the eggs until you get something that looks like this…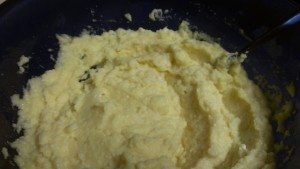 The flat bread wont fluff up much so keep that in mind as you make your flatbread. Line a baking sheet with parchment paper.  Take a large scoop and spread in a circular shape.  Make sure the entire circle is covered.  Bake fore 11 min.  then flip the flat bread.  Bake for another 5 -10 min, just until they are slightly browned.  Eat them hot or let them cool.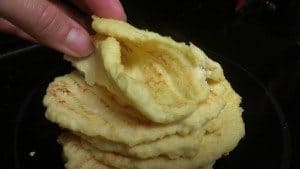 We used these to enjoy BLTA's (Bacon Lettuce tomato avocado) sandwiches.  The next day my kids used them for almond butter and jelly sandwiches!